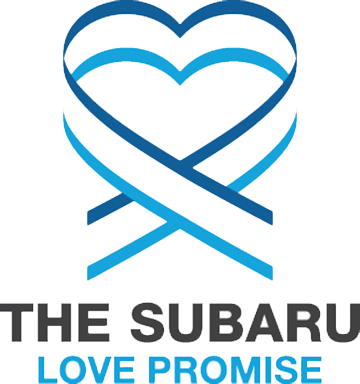 What is the Subaru Love Promise?
Subaru and our retailers believe in making the world a better place and the Subaru Love Promise is our vision of respecting all people. This is our commitment to show love and respect to our customers and to work to make a positive impact in the world.
How is Lehman Subaru dedicated locally to the Love Promise?
Our Love Promise can be seen in various partnerships with local charities and non-profits. We're grateful for the opportunity, not only to be a part of our community, but to serve it as well.
Love Promise Stories from Lehman Subaru
Subaru and Lehman Subaru believe in making a positive impact on the communities in which we live and work. We uphold that belief through our Love Promise Community Commitment. Every month, we select inspiring stories from customers and partners from around our area who strive to support our collective commitment and feature them here
iHeart4Kids Radiothon - Nicole N
Presented by Lehman Auto, Nicklaus Children's and iHeartMedia hosted the first-ever iHeart4Kids Radiothon in 2021 to benefit the patients and families of Nicklaus Children's Hospital. The daylong radio fundraising event was broadcasted live on Totally 93.9 Miami and NewsRadio 610 WIOD, with donations collected by phone, text and online. Throughout the day, Nicklaus Children's patients, families and staff took to the airwaves to share their inspiring stories of hope and healing. Lehman Subaru in Miami Gardens was proud to donate $15,000 to Nicklaus Children's Hospital. Because of the support of community partners like Subaru, Nicklaus Children's is able to respond to the hospital's greatest needs, provide amazing patient care, and help to create a healthy future for every child. Support helps patients like Gabriel, who received life-saving surgery after being diagnosed with brain cancer. Today, he is stronger and healthier on his path to full recovery. https://nicklauschildrens.org/gabriel
---
The 5000 Role Models of Excellence Project - Pamela J
Thanks Lehman Subaru for showing its absolute dedication to the community during the Christmas Holidays. Elementary Students from the 5000 Role Models of Excellence Project were the benefactors in a big way. Thanks to Lehman Subaru's generosity little boys from Frederica S.Wilson/Skyway, Parkview, Holmes, Lorah Park, and Broadmoor elementary schools received lots of basketballs, footballs and the most popular fidget toys delivered personally from the Lehman Subaru Santa Claus in a Sleek Subaru Sedan. The children were elated to receive these special gifts just before Christmas. The Lehman Subaru Family sent Representatives, that took the time to engage in playing catch football with the Role Model boys and managed to score some basketball hoops before moving on to the next school on their route. A wonderful time was enjoyed by all, and we look forward to working with Lehman Subaru in the future as we strive to interrupt the school to prison pipeline! On behalf of the thousands of children and Mentors in the 5000 Role Models of Excellence Program, we sincerely thank Lehman Subaru for providing gifts, which included smiles and lots of laughter. This spirit of giving is the "heart of our program's success. Happy Holidays to the Lehman Subaru Family!
---
Subaru Loves To Care - Chelsea S
On Thursday, June 27th, 2019. The Southern Florida Chapter for The Leukemia & Lymphoma Society partnered with Lehman Subaru to hand out approximately 80 blankets and craft kids to babies and children who are in the pediatric ward at Salah Foundation Children's Hospital in Fort Lauderdale. This was my first trip as an employee of LLS to help with the distribution of the Subaru blankets. I didn't know what to expect or how I would react seeing these children who still have their lives and dreams ahead of them. We arrived with Lehman Subaru and were greeted by Kasey with Child Life and another nurse with two red wagons for us to put the blankets and craft kits in to take to the PICU ward. The Subaru team also purchased these really cool bags to place the blanket and craft kit in with pictures of Spiderman, Mickey Mouse and fun loving characters on them. There were about 31 beds filled with sick children with different types of cancers. The children's average time spent at the hospital is 3 to 5 days. Some of them come back weekly/monthly for treatments. We took turns with the Subaru team going into the hospital rooms and presenting the children and their families with the blankets and craft kits. Most of the rooms have what seemed to be a mom and dad sitting by their child's bed keeping them comfortable and happy. Some had little babies in cribs with plastic on one side so they could be covered by the germs that may compromise their immune system. We left notes in the rooms with empty beds from Super Hero's along with the blanket and craft kit. I could just imagine the face on a child who already doesn't want to be there but to get an encouraging note from a supper hero with a gift would make it just a little easier for them. There were three separate wings to the hospital where the children were taken care of by the staff. First is the Pediatric Hematology Oncology/ Medical-Surgical Unit. Second is the Pediatric-Intensive Care Unit-Pediatric Acute Care Unit. Third is the Pediatric Hematology Oncology Center. In the Intensive Care Unit there were several children that we could not go near. The nurse had to put on scrubs, and a medical mask to deliver just a blanket. We did not want to compromise the children. It broke my heart to see them so helpless. I wanted to hug and hold every single one of them and tell them everything would be ok. We saw four men walking around as we were doing our rounds. I wasn't sure if they were medical interns or why they were there. I soon found out. They were singing musicians, Music therapist. It put a smile on their face and their families and just for those few minutes they forgot they were in a hospital room. They were in a little girl's room about 8 years old. I remember the mom was laying on the daughter's bed, talking to family members while the musicians sang to her daughter while she sat with her friend alongside the window seal. Her mouth was wide open her eyes full of joy. We slipped the blanket into her room as they all listened to the beautiful music and harmonization of the music therapist. Everyone's eyes were fixed on the little girl and how happy she looked. The corridors and hallways are full of vibrant colors and beautiful framed pictures of Cinderella, Popeye, Dumbo, and other lovable characters. They can even go to the fish tank and create their own fish that can keep them company on their stay at the hospital just so they don't feel alone. I felt extremely blessed to be a part of the Subaru Loves To Care program. Many thanks to Lehman Subaru and the Salah Foundation Children's Hospital for not only a memorable day, but for supporting The Leukemia & Lymphoma Society's mission to cure blood cancers and improve the quality of life of patients and their families.
---
Under the Sea of Blankets - Chelsea S
The hostess with the hostess, Ann Fogel of Salah Children's Hospital, cheerfully greeted community volunteers from Lehman Subaru and The Leukemia & Lymphoma Society (LLS). With her excitement and grace, she whisked our teams to the special wing within Broward Health Medical Center. This particular wing of the hospital boasts its kid-friendly and precious theme of "Under the Sea" with sounds of oceans and bubbles accompanying the mural soaked walls showing colorful fish and sea creatures. It was in this magical part of the hospital Subaru and LLS individuals walked alongside the cheerful hostess to deliver beautifully comforting blue and cream-colored blankets along with tin lunchbox-style kits filled with arts and crafts for the children to enjoy. Although each child in this hematology-oncology wing was in good spirits before the visit – each one lifted gleaming smiles upon receiving the kind gifts. It was after each room in this pediatric facility was touched, that everyone involved felt an "SEA" of happiness and encouragement bring light to the darkness of cancer. Through friends like Lehman Subaru and Salah Foundation Children's Hospital, the brightness of the day shined amongst the smallest of patients.
---
We Proudly Support Communities in Schools - Bob O
In the U.S. 1 in 5 children under the age of 18 live in poverty, shouldering more than they should have to. Communities in Schools works directly inside schools, building relationships that empower students to succeed inside and outside the classroom.
---
Subaru and NWF Love the Earth! - Sally H
Thank you for your generous donation of plants and supply monies to be used to educate our students about gardening and wildlife habitats. My students truly enjoyed planting as they learned about nature. The gift card was used to purchase planters, soil, and caterpillar host plants to add to the garden sent by Subaru. We truly appreciate your support!
---
Subaru Loves the Earth - E-Waste Event - Danielle S
We would like to thank our customers for participating in our E Waste Recycling event during the month of April. With your help, we were able to prevent 2,090 lbs of carbon emissions from polluting the atmosphere. This is equivalent to saving 81 trees, 356 gallons of gasoline, 3,030 plastic bottles, and 13,936 aluminum cans. Thank you for helping strengthen the Subaru Love Promise!
---
April 1-30, 2015 E-Waste Recycling Event - Molly M
Throughout the month of April, we are hosting an E-Waste Recycling Event in our store to collect unwanted electronics. We've arranged to work with a company who will responsibly collect, re-purpose, and recycle your electronic waste. Help us protect our environment. Just show up with your E-Waste and we'll do the rest! The first 50 customers who contribute will receive a complementary environmental badge of ownership. We will accept: LCD Monitors, Cell Phones, Laptops, Tablets, CRTs up to 40", Video Games/Consoles, Fax Machines, DVD/VCR Players, Printers, Computer Peripherals, Switches/Routers, Cords and Wires.
---